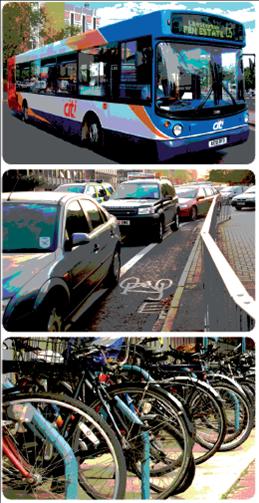 The way we travel can affect our health and the health of people around us
Most people have to commute to and from work. For some of us, the journey might be a pleasant walk, an invigorating bike ride, a chance to collect our thoughts, or an easy way to get some exercise. For others, the journey might involve traffic jams, crowded public transport, or having to pick up children and shopping on the way home.
The way we travel can affect our health and the health of people around us. This study aims to find out more about how people travel and how this is related to their overall physical activity, health and well-being. We are particularly interested in why people choose to use different modes of transport and how this is related to where they live, where they work, and what travel options are available to them. Researching these issues will help make sure that future transport policy takes account of people's health needs.
To find out more about the aims of the study, the data we have collected and the emerging findings of our research, visit the study page on the CEDAR website here.
Study Summary
The Commuting and Health in Cambridge study is a quasi-experimental cohort study of commuters that aims to assess the magnitude, nature and population distribution of changes in the travel behaviour of commuters who travel to work in Cambridge associated with the opening of the Cambridgeshire Guided Busway in 2011. It additionally seeks to identify, explore and explain the wider health impacts of any observed changes in travel behaviour, specifically in terms of changes in overall physical activity, wellbeing, sickness absence, and carbon emissions. Four annual waves of survey data (2009-2012; baseline n=1164) are complemented by detailed behavioural measurement in subsamples using Actigraph and Actiheart physical activity monitors, global positioning system (GPS) receivers and household travel diaries, four waves of qualitative interviews, an intercept survey of busway users and an ethnographic participant-observation study.
Status
Field work completed, analysis and publication ongoing, and further preparation and development of detailed behavioural measurement datasets planned.
Unit Role
Unit led study in collaboration with University of East Anglia and University College London. Unit responsible for data
Funding
Initial recruitment and baseline data collection was funded by pump-priming funds from UKCRC (via CEDAR). Phases 2, 3 and 4 were funded by a grant from the NIHR Public Health Research programme held by the Unit.