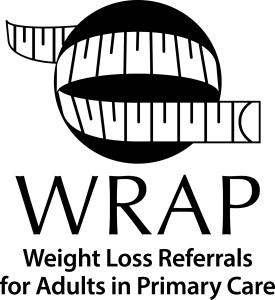 Behavioural weight management programmes can help people lose weight and reduce their risk of chronic diseases, but programmes led by specialists in clinical settings can be too costly for the NHS to deliver at the necessary scale. There is good evidence that primary care referral to an open-group behavioural weight loss programme is a cost-effective option. 12-week referrals to these programmes are often used in the NHS, but there is debate about whether this treatment duration is sufficient to have a long term impact. The WRAP randomised controlled trial evaluated whether an extended referral (52 weeks) is more effective and cost-effective over 2 years.
In the WRAP trial, 1269 adults who were overweight or obese were randomly allocated to one of three weight loss programmes: brief intervention, 12-week open-group behavioural programme, 52-week open-group behavioural programme. Participants were then followed up for 2 years, and we collected clinical measurements and self-reported data on psychosocial variables and health resource use at baseline, 3 months, 1 year and 2 years. We are using this data to establish whether the longer treatment programme achieves greater weight loss (and improvements in other risk factors) than the shorter programme, and whether the greater effectiveness justifies the additional costs from an NHS perspective. This research will provide important information to GPs and NHS treatment commissioners about which treatment option is most effective and which offers best value for money.
For more information about the WRAP trial, you can read the trial protocol or contact the Chief Investigator Dr Amy Ahern.
Status
Two year follow up of WRAP participants was completed in 2016. Analysis and publication of data is ongoing.
Unit Role
From 31st October 2016, responsibility for the WRAP study will transfer from MRC Human Nutrition Research to the MRC Epidemiology Unit, University of Cambridge. University of Cambridge will become the sponsor and data controller for this trial. For more information about this please read our letter to participants
Funding
This study is funded by the National Prevention Research Initiative through research grant MR/J000493/1. The Funding Partners relevant to this award are (in alphabetical order): Alzheimer's Research Trust; Alzheimer's Society; Biotechnology and Biological Sciences Research Council; British Heart Foundation; Cancer Research UK; Chief Scientist Office, Scottish Government Health Directorate; Department of Health; Diabetes UK; Economic and Social Research Council; Health and Social Care Research and Development Division of the Public Health Agency (HSC R&D Division); Medical Research Council; The Stroke Association; Wellcome Trust; Welsh Assembly Government; and World Cancer Research Fund. The cost of the Weight Watchers programme and the costs of blood sampling and analysis are funded by Weight Watchers International as part of an MRC Industrial Collaboration Award.