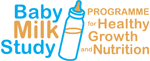 How babies are fed and grow during the first year of life can have important effects on their health in later life. The Baby Milk study aims to improve our understanding of infant feeding, appetite, behaviour and growth, to inform future infant feeding guidelines.
About the Baby Milk Study
Evidence from observational studies supports the robust and highly consistent association between rapid weight gain during infancy and later obesity and also with cardiovascular disease risk factors. In the most recent systematic review, 45/46 studies reported a positive association between infancy weight or weight gain and later childhood overweight. Infancy is a period of rapid growth, habit formation and developmental plasticity, hence it is recommended by the World Health Organization as an important time to target obesity prevention.
Energy deposition as a percentage of total energy requirements decreases from 40% at age 1 month to 1%–2% from 12 months until mid-adolescence. Therefore, weight gain during infancy is more closely related to energy intake than is weight gain in childhood or in later life. In 2004, the WHO and other international bodies reduced the estimated average energy requirements (EAR) for infants by 15%–20% and UK dietary reference values for energy were similarly revised in 2011. However, there is wide interindividual variation among formula milk-fed infants in their energy intakes, which are positively associated with rate of infancy weight gain and childhood body mass index (BMI). Although the benefits of breastfeeding are well recognised, only 23% of UK infants are exclusively breast fed at age 6 weeks. Hence, alongside breastfeeding promotion, optimising the diet and growth of formula milk-fed infants may contribute to reducing the prevalence of childhood obesity.
Systematic reviews of early life interventions to prevent childhood obesity found that research in this area is recent and evolving. The latest review in 2016 found that of 26 interventions, 7 of the 18 behavioural interventions and two of the eight biologic interventions were effective.
We evaluated the efficacy, mechanisms and cost of a theory-based, behavioural intervention to reduce formula milk intake and prevent excess weight gain during infancy in an explanatory, single (assessor) blind, parallel group, individually randomised controlled trial (RCT) of parents (usually mothers) and their infants.
The study offered a package of support to parents who are bottle-feeding, as our previous studies have shown that many parents who give their babies formula-milk would like more information and support. The programme developed by researchers at the Centre for Diet and Activity Research (CEDAR) and MRC Epidemiology Unit in Cambridge aims to give support and guidance to parents who formula-milk feed their baby in order to achieve a healthy pattern of growth.
The study was a randomised controlled trial, in which parents were allocated to receive either a new feeding programme, or standard advice about bottle-feeding and weaning. Support was offered through leaflets and monthly contacts with trained advisors. Babies and parents in the study were measured at the start of the study, at six months and at 12 months. Measures included baby's length, weight and head circumference, as well as questionnaires about their sleep, appetite and temperament.