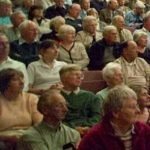 The MRC Epidemiology Unit works to involve patients, participants and and the public through all stages of the research process from study design through to its execution and communication of findings.
In this we are able to draw on our partnerships with Cambridge University Foundation Hospital NHS Trust, and NIHR Clinical Research Network: Eastern to explore ways to increase patient and public involvement in our research.
---
Involvement in research
If you are interested in volunteering to take part in research, you can visit the volunteering page here.
---
Engaging with our research
Our researchers take part in a number of public engagement activities throughout the year. More details here.