DEXA stands for Dual Energy X-Ray Absorptiometry and is a technique used to study body composition. This test allows us to determine your overall and regional fat as well as your lean mass and bone density.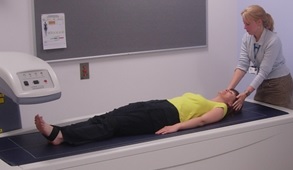 The procedure involves a very small dose of radiation. This dose is equivalent to approximately an extra hour of background radiation from the atmosphere. For comparison, a normal chest X-ray is equivalent to approximately three days of background radiation. With this is mind, the dose of a DEXA scan may be considered very small. As it is an x ray procedure, if there is any chance you may be pregnant, please let us know.
The procedure involves lying still on the flat bed for approximately 6-10 minutes. Light Velcro straps will be placed below the knees and around the feet for comfort. Whilst you are lying on the bed, the scanning arm will move from your feet to the starting position above your head. The scan will take place as the arm moves from your head all the way down to your feet.
You will receive a body composition report similar to the one below. In the unit we currently use Lunar Prodigy Advance and IDEXA.