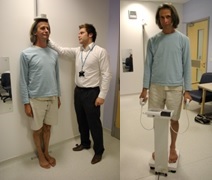 For all studies we take simple body measurements such as weight, height, hip and waist circumferences (see the images below). Weight and height can be used to calculate your body mass index (BMI) which is used as a simple indicator of whether you are at a healthy weight for your height. A "normal" BMI is between 18.5 and 25 kg/m2. Above this is considered "overweight" and above 30 kg/m2 is classified as "obese".
We use waist and hip circumferences to study body fat patterning. When waist circumference is used together with hip circumference it is indicative of the masculine (upper body) or feminine (lower body) distribution of fat. People with a high waist to hip ratio ("apple shaped" individuals) are more at risk of metabolic disorders such as obesity and diabetes than those who have a low waist to hip ratio (the "pear shaped" individuals).
We take these measurements over light clothing, but we would ask you to remove anything heavy from your pockets for some of the measures.