Physical Activity (PA) is a complex behaviour to measure. In most studies we measure PA using questionnaires (subjectively) as well as with monitors (objectively).
Having PA measured as part of a study usually involves 2 main components: being monitored in the laboratory environment & during "free-living" (wearing a monitor for a number of days to assess activity levels in daily life).
Monitoring activity within a laboratory enables accurate measurements to be taken in an environment that can be easily controlled. Measures of movement, heart rate and energy expenditure are collected to monitor an individual's response to different levels of activity. Physical activity tests are normally done when the volunteer has been fasting for a minimum of 2hrs.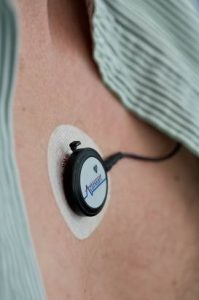 During the laboratory tests you will be asked to wear a variety of monitors which may include:
A combined heart rate and movement sensor (Actiheart, CamNtech), which fits to the chest with small electrodes and records heart rate and movement. This is also often worn for a number of days following the visit during daily life.
Polar Belt: A belt worn around the chest which gives a live feedback of heart rate to the researcher so this can be monitored throughout the lab tests
Gas analysis mask/hood: A mask over the nose, mouth and chin (or a clear hood covering the head) is connected to a gas analysis machine. The volunteer breathes in completely normal room air and the gas analyser measures the amount of oxygen breathed in and the amount of carbon dioxide breathed out. Energy expenditure is then calculated from this information. This is known as indirect
Your visit usually consists of 2 main tests:
Rest test
Heart rate, movement and gas analysis measurements are taken whilst you are lying down. You will be encouraged to relax, breathe normally and not to fall asleep! Resting data provides us with baseline information of resting energy expenditure.
Treadmill Test
The most common treadmill test used is a 20minute graded test, involving flat walking, uphill walking and jogging. How far you progress through the stages of the test is determined by pre-determined stopping criteria relating to heart rate and gas exchange as well as continual monitoring. You are free to stop at any time during the test if you wish.
You may be asked to complete a simple walk test instead of, or as well as the treadmill test. This involves simply walking between two markers in the clinic for a certain duration or distance whilst heart rate is being measured.
By having information about heart rate and energy expenditure at particular intensities of activity, this enables us to interpret an your free-living data more accurately.
Measuring PA in "free-living" (after the visit):
You will be sent away with a monitor to continue wearing for up to a week; the most common monitor is the small combined heart rate and movement sensor. It is very discrete, waterproof and can be worn continuously.
Other monitors that are commonly used are accelerometers, which measure movement. These may be attached to your wrist or hip and most of these are also waterproof.
You will be asked to return the monitors via a freepost envelope provided. The monitors will be downloaded by the research team. Data collected during "free-living" allow us to estimate energy expenditure, time spent at different intensities and overall physical activity levels in your everyday life.
In some studies, personalised feedback is provided on some of the monitors worn. This can include estimates of fitness levels and physical activity level.