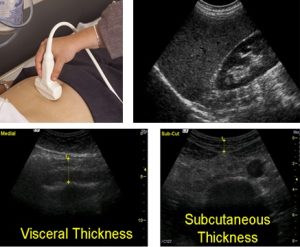 The ultrasound is exactly the same as that routinely used during pregnancy to visualize the baby.
It is based on very high frequency sound waves, outside of the range of human hearing. A hand-held device (called a transducer) is pressed against the area being scanned. This device sends out the sound waves and also detects their echoes. This information is computer processed to produce an image of the area being scanned, like on a radar screen.
This method is used to measure the amount of fat in the midriff (abdomen). In particular, we measure visceral fat (the fat around abdominal organs), subcutaneous fat (the fat under the skin) and liver steatosis (fat within the liver). We are interested in assessing these different fat compartments as it seems that the distribution of the fat around the abdomen is related to the risk of developing diabetes.