We are a Medical Research Council Unit embedded as a department of the University of Cambridge School of Clinical Medicine.
Our mission
Obesity, type 2 diabetes and related metabolic disorders present a major and growing global public health challenge. These disorders result from a complex interplay between genetic, developmental, behavioural and environmental factors that operate throughout life.
The mission of the MRC Epidemiology Unit is to investigate the individual and combined effects of these factors and to develop and evaluate strategies to prevent these diseases and their consequences.
In this way, we are working to improve the health of people in the UK and around the world.
---
Our objectives
We are delivering on our mission through eight High Level Objectives which connect all our research programmes and infrastructure.
To investigate the causes of obesity, diabetes and related metabolic disorders
To develop understanding of mechanisms identified by population-based studies
To develop and evaluate individual level approaches to the prevention of diabetes, obesity and related metabolic disorders in children and adults
To inform, develop and evaluate population-based approaches to improving health
To develop new methods, resources and tools for epidemiological and public health research
To investigate approaches to improving global health, particularly in low and middle income countries
To build capacity for conducting, understanding and using local, national, and international epidemiology and public health research
To contribute to the translation of research evidence into policy and practice
The main objectives of each individual research programme are mapped to one or more of these High Level Objectives, which therefore provide a unifying framework to illustrate and augment the cross-links and collaborations between programmes.
Click to enlarge the image below to see how our programmes map to our objectives.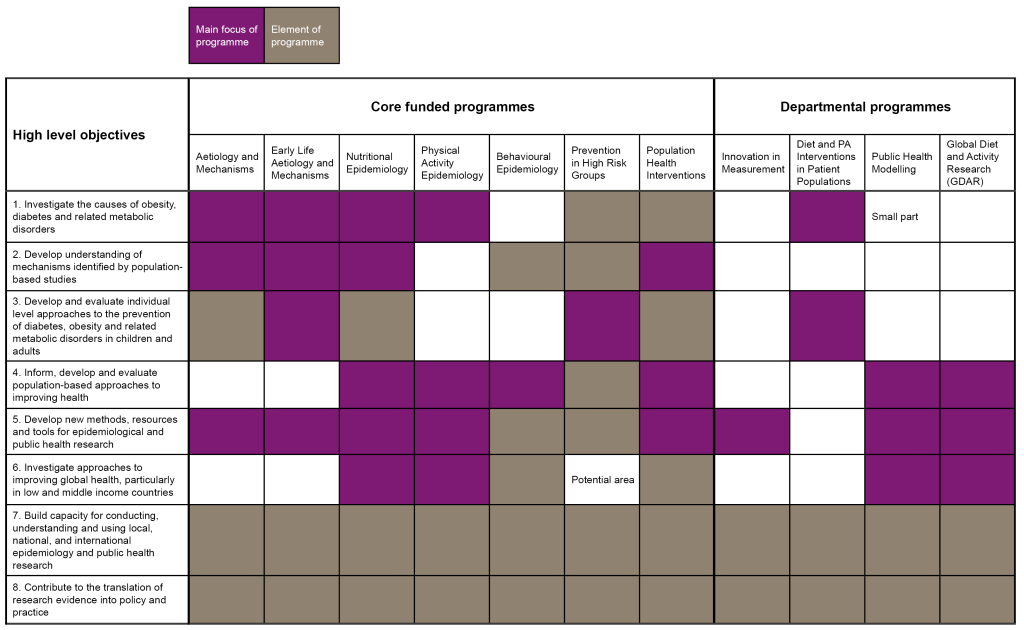 ---
Find out more