Setting
We are a Medical Research Council Unit embedded as a department of the University of Cambridge School of Clinical Medicine.
The Unit is part of the Wellcome – MRC Institute of Metabolic Science (IMS) on the Cambridge Biomedical Campus, where the principle offices and laboratories of the Unit are physically located. Unit Director Professor Nick Wareham is Co-Director of the IMS with Professor Sir Stephen O'Rahilly. Being embedded in the IMS is critical to our aspiration to follow up associations between exposures and metabolic disease outcomes to determine possible causality and mechanisms.
The Unit is also a part of Cambridge Population Health Sciences, a three department partnership of the Department of Public Health and Primary Care and the MRC Biostatistics Unit. Collectively, the Partnership pursues a wide range of research across epidemiology, biostatistics, population health and primary care, and delivers the Masters courses in Population Health Sciences.
---
Organisation
Our research is delivered by a number of scientific programmes that work collaboratively to deliver the High Level Objectives. There is also a shared infrastructure of studies and research operations teams.
This structure provides an efficient and effective platform to enable us to improve understanding of the causes of obesity and diabetes and how we might better prevent them.
Research programmes
The Unit has seven Medical Research Council core-funded programmes of research, ranging from the aetiology and mechanisms of diabetes and related metabolic disorders, through nutritional and physical activity epidemiology, to prevention-focused programmes in young people and adult populations. These are reviewed funded on a five year basis. We completely our most recent five year funding review in 2020.
We also have a number of departmental  programmes supported by a range of funders in areas including public health modelling, global public health, interventions in patient populations and the measurement of diet, nutrition and physical activity.
The Unit leads CEDAR. Originally established as one of five UKCRC Public Health Research Centres of Excellence, CEDAR has allowed us to build research capacity, develop and evaluate public health interventions and natural experimental studies, and help shape public health practice and policy. Using research from both MRC-funded and departmental programmes, CEDAR continues as a vehicle to communicate our translational public health work.
Our global public health research includes our leadership of the NIHR Global Diet and Activity Research Group and Network (GDAR), an international research partnership to help combat poor diet and physical inactivity in order to reduce the risk of non-communicable diseases. The partners in the GDAR network include Universities in South Africa, Cameroon, Kenya and the West Indies.
Further research programmes focusing on nutrition, diet and lifestyle, and Diet and Physical Activity Interventions in Patient Populations, form part of our leadership of the NIHR Cambridge Biomedical Research Centre (BRC) theme in Nutrition, Diet and Lifestyle. The Cambridge BRC links scientific research in world-class institutes with advances in patient care.
The specialist functions relating to the measurement of diet, nutrition, physical activity and anthropometry are integrated into the Measurement Platform. This provides expertise and capacity to support research groups and studies both internal and external to the Unit.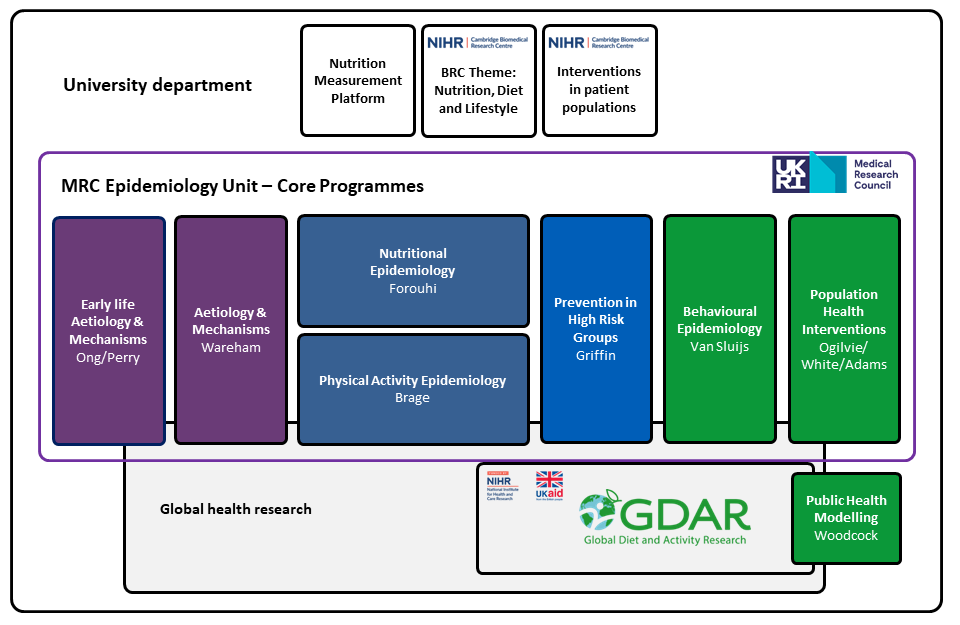 Studies
The Unit's programmes are supported by a core set of prospective cohort studies, detailed quantitative trait metabolic studies, case-control studies and trials that serve both aetiological and preventive purposes. This shared resource enables data from individual studies to be analysed by many programmes to identify trends and links in different areas of interest. More about our studies
Research operations
Underpinning all our scientific programmes and studies are specialist Research Operations teams. These specialist functions include data management, information technology, sample management and high-throughput analyses, statistics and data science, physical activity and anthropometric measurement, dietary assessment and nutritional biomarker analysis, study coordination, field epidemiology, and communications. More about Research Operations.
Cambridge Epidemiology and Trial Unit (CETU)
The Unit also leads the Cambridge Epidemiology and Trial Unit (CETU), an NIHR accredited clinical trials unit. CETU focuses on investigator-led randomised controlled trials (RCTs) and other well designed studies that evaluate interventions to improve healthcare and public health. We have expertise in evaluating interventions ranging from individual- and group-level behavioural interventions, through to policy interventions. More about the CETU