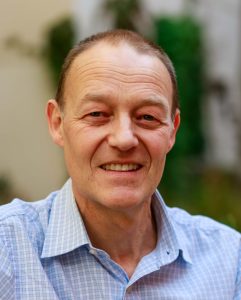 The MRC Epidemiology Unit and the UKCRC Centre for Diet and Activity Research (CEDAR) at the University of Cambridge are pleased to announce the appointment of Martin White to lead research into Dietary Behaviours and Public Health Interventions.
Martin will lead a research programme focused on understanding the determinants of behaviour and the development and evaluation of interventions that impact dietary behaviours. He will also play a leadership role in the Unit and CEDAR. Previously Director of Fuse, the Centre for Translational Research – www.fuse.ac.uk – Martin is a clinical academic, trained in medicine and public health, with broad experience of public health research and practice, and a national and international reputation for his research and leadership. He has an interest in developing research on the influence of the food industry, the impact of social and policy interventions on diet, and the population impact of individual level interventions.
Speaking about his appointment, he said: "I am delighted to be joining a growing team within the MRC Epidemiology Unit and CEDAR researching the public health importance of diet and associated public health interventions. Promoting healthy diet is central to tackling obesity and related disorders, which are a major public health priority globally."
Welcoming Martin, Director of the MRC Epidemiology Unit and CEDAR Prof Nick Wareham said: "This is an exciting appointment for CEDAR and the Unit, and reflects the growing strength and impact of our dietary research portfolio. It has been estimated that 70,000 premature deaths in the UK alone could be avoided each year if diets matched nutritional guidelines, but dietary behaviours are hard to change as they are part of a complex web of personal, social cultural, economic and environment factors. Martin's experience and expertise will be instrumental in producing not only more first class research but also growing engagement with policy and practice in support of bringing evidence-based interventions to bear on dietary public health challenges." 
Notes
Martin White starts at the MRC Epidemiology Unit / CEDAR on 13 October 2014. His page at the University of Newcastle is www.ncl.ac.uk/ihs/people/profile/martin.white
Follow Martin on Twitter at: https://twitter.com/martinwhite33
Martin White has also been appointed successor to Professor Catherine Law, University College London, as Director of the National Institute for Health Research (NIHR) Public Health Research Programme from 1st October 2014. He will combine this role with his appointment at Cambridge University.