At the Unit, we are building research, clinical and public health pathways for the application of our work. This means collaborating across sectors, developing new approaches for healthcare, and informing population approaches to disease prevention and public health promotion.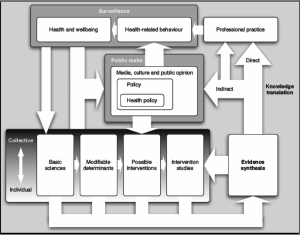 Our approach to knowledge exchange is informed by the translational framework for public health research which we developed on behalf of the MRC Population Health Science Research Network. This framework identifies that there are many routes that evidence takes towards improving health – through media and public opinion, professional practice, health surveillance and development of basic science.
Within public health, we work with practitioners as part of our studies, and with policymakers at a local, regional and national level to share our research and to develop understanding of policy perspectives. This includes collaborating with the Centre for Science and Policy. A large amount of our public health policy work is developed through the Centre for Diet and Activity Research (CEDAR), which is led by the Unit.
Resources
If you have questions about this area of our work, please contact Oliver Francis.