Accommodation
Full board single accommodation (with en-suite facilities) during the Seminar will be provided free of charge at Clare College, which is where all the Seminar sessions will also take place.
Clare College is the second oldest of the Cambridge colleges. It is located in the centre of Cambridge and provides state of the art facilities as well as a true Cambridge atmosphere! The College campus spans the River Cam, with the 17th century Old Court lying east of the river and the 20th century buildings in the Memorial Court to the west. A short walk through a tree lined avenue and over the exquisite Clare Bridge links the two Courts.
There will be access to a computer room for internet and email access. Participants are welcome to use the student launderette facilities in Gillespie Centre. Public telephones are available on site. All meals will be served on the premises, shared between the Buttery, the Great Hall and the Gillespie Centre. For any further details you can explore the Clare College website (click to be directed).
Accommodation and meals at Clare College will be provided by the organisers [accommodation is available from Sunday 18 August to Saturday 24 August (departure) inclusive (for 6 nights), with the Seminar dates being Sunday 18 August to Friday 23 August inclusive, with departure after breakfast on 24 August.]. Please note that the programme begins at 3pm on Sunday 18 August. If you have any specific travel / accommodation needs, please contact the Secretariat.
We will provide single accommodation with en-suite facilities (see website for further details). For any dietary requirements we will collect information from you nearer the time of the conference, if your application has been successful
Please note that:
If you wish to stay on in Cambridge either before or after these dates (18 August to Saturday 24 August), you will have to make your own arrangements and payment, but please inform the Secretariat.
As the CDS2024 is an intensive residential course we cannot make arrangements for accompanying persons.
Cambridge and surrounds Map
Clare College Map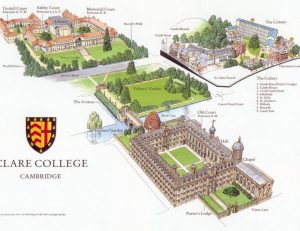 Travel
Those chosen for the course will be expected to fund their own travel to and from Cambridge. We recommend that you begin the process of securing funding for this as soon as you know if you have been accepted. 
Traveling to Clare College:
By road
Cambridge is linked to London and the M25 by the M11 motorway. Exit at junction 12 for Barton Road or Junction 13 for Madingley Road.
Access from the Midlands and North is via the A14 and A1. From whichever direction you approach you should make for the A14 to the north of Cambridge.
Rail
From King's Cross and Liverpool Street stations, London: less than 1 hour. Information on Trains are available from National Rail.
Cambridge Station is about a 25 minute walk from Clare, but buses run every 8 minutes into the centre of Cambridge and taxis are available for hire at Cambridge Station. Local Cambridge buses also operate from the station.
Coach
There are frequent services between London's Victoria Coach Station and Drummer Street Bus Station in Cambridge (this is a 5-minute walk to Clare Old Court). Information on coaches are available from National Express.
Air
Stansted Airport is located just 30 miles south of Cambridge, is 35 minutes away via the M11 motorway and is the most convenient international airport but there are also regular flights from most European destinations. Heathrow and Gatwick are both approximately 2 hours away by road or rail, and there are frequent coach connections to Cambridge (Drummer Street Bus Station) from all three airports.