Thank you for agreeing to provide your Google location history for the DEBEAT study.
Please follow the instructions below to download your data:
1. Go to: https://takeout.google.com/?hl=en-GB&pli=1. You may be required to sign in to your Google account.
2. Scroll down to 'CREATE A NEW EXPORT' and click 'Deselect all'

3. Scroll down to 'Location History' and check this box.

4. Once checked, scroll to the bottom of the list and click 'Next step'
5. Complete the 'Choose file type, frequency and destination' as below.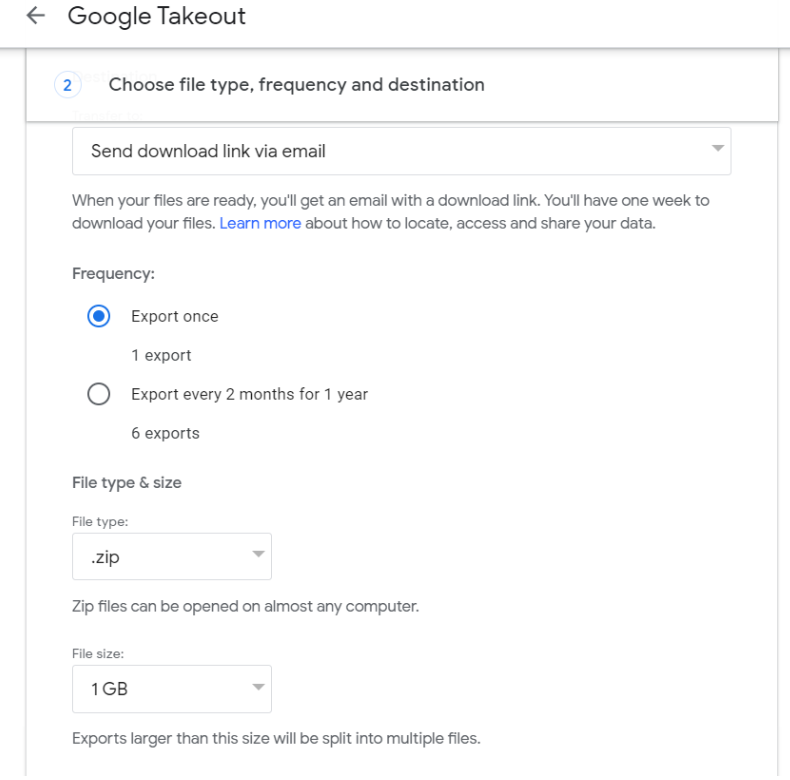 6. Click 'Create Export'
7. Google will then process your export for you. Depending on your file size and connection speed, you will normally receive an email confirming that your download is ready within a few minutes.
8. Open your email from Google Takeout and click 'Download your files'. This will download your Google location history data into a zip file. Save this zip file somewhere you will be able to find.
9. Go back to your email from the DEBEAT study team and click on the upload link to upload the downloaded zip file you have just created.
10. If you don't normally have Google location turned on, then you can now turn it back off by following this link.
Thank you for all of your participation in the DEBEAT study. If you have any problems completing the above or any questions, then please contact the study team at debeat.study@mrc-epid.cam.ac.uk