An international research team led by scientists at the MRC Epidemiology Unit has used a new approach to combine data from 27 individual population studies and conduct the largest ever investigation of the link between consumption of legumes and type 2 diabetes.
A healthy diet is one important way to prevent type 2 diabetes, a condition affecting almost 500 million adults worldwide. Legumes such as beans, lentils, peas and soy are typically high in dietary fibre, protein, B vitamins, and minerals and have a low glycaemic index. Consequently, their consumption is promoted as part of a healthy diet in many countries, but published scientific evidence has shown inconsistent findings for any link with type 2 diabetes.
Empty spaces on the map
Our aim was to find out the nature of the association between the amount and type of legume consumption and the risk of developing type 2 diabetes over time and in different world regions among people who did not initially have diabetes.
A previous challenge in achieving this aim was that few studies on this topic were published and they were from a limited number of countries and regions. In fact, several research studies have collected data on both dietary habits and risk of developing diabetes, but for a variety of reasons they have not previously analysed and published their findings on the relationship specifically between legume consumption and type 2 diabetes risk. Therefore, the existing research evidence may suffer from publication bias – the tendency for the result of a study to not be available for publication which can substantially affect the overall balance of published findings.
First author Dr Matthew Pearce explained the different approach taken in the new analysis published in the Journal of Nutrition:
Instead of using published results to summarise the evidence in a systematic review, we decided that to gain a better understanding of the relationship between consumption of legumes and type 2 diabetes, we needed to examine as much of the available data as possible, including the existing but as yet unpublished data."
Interconnect: taking the analysis to the data
In our research we employed a new federated approach to bring data together from different world regions.
The InterConnect project uses DataSHIELD software to allow multiple studies to be combined in the same analysis, with individual researchers and institutions retaining complete control of their data. Our collaborators in this research at different global institutions set up a server in their own location, and analyses across all the studies were conducted remotely by the team in Cambridge.
Professor Nita Forouhi, Programme leader for Nutritional Epidemiology at the MRC Epidemiology Unit and the senior author of the paper, said:
Rather than physically bringing the data together at a central hub, we 'took the analysis to the data'. This federated approach enabled us to assemble a collaboration of 27 studies from countries and regions across the globe, including 26 that had not previously published on this topic, helping to avoid publication bias and cover new countries and regions of the world."
We could have conducted our study by pooling the original data from available studies at a single institution, or by asking each collaborator to conduct the analysis and send us the results. However, these approaches can be challenging due to governance, ethical and legal requirements, or due to resource issues, and can consequently take a long time. The 'federated meta-analysis' approach of the InterConnect project helps to overcome these constraints.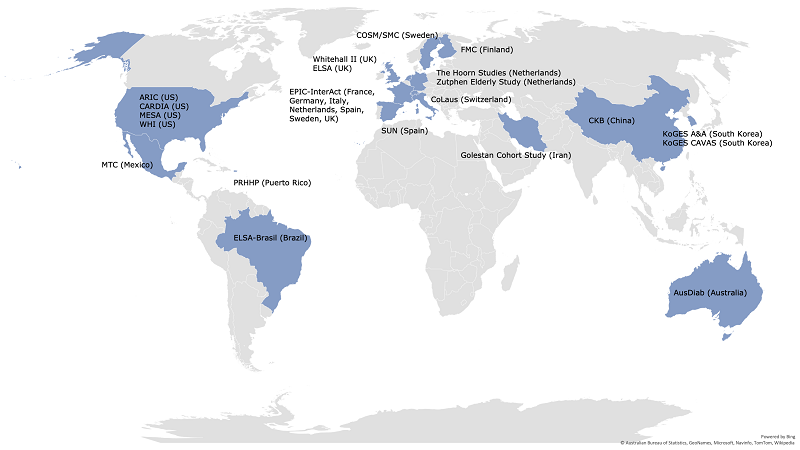 Counting the beans – our research findings
Average legume consumption ranged from around zero daily servings in Germany, Sweden, and the UK, to approximately 2 servings (140 g) per day in Brazil.
In the Americas, Eastern Mediterranean, and Western Pacific regions, we found that total legume consumption was not associated with the risk of developing future type 2 diabetes, including in countries where legumes are part of the staple diet. However, in Europe we found that 2 additional servings of legumes per week were associated with a modestly (5%) higher risk of type 2 diabetes.
The finding of an association between increased legume consumption and higher risk of type 2 diabetes may seem surprising, as there is a widespread expectation that legumes should be 'healthy' and therefore higher legume consumption should be associated with lower diabetes risk. But this is not the first time such a finding has been suggested.
In our paper we discuss several potential explanations for our findings. The studies we examined relied on people recalling their dietary intakes, and this can introduce inaccuracies into dietary assessment, a universally well recognised limitation of dietary research. But another potential explanation for the observed higher risk of type 2 diabetes in people in Europe who consume more legumes could be to do with the ways legumes are prepared and the other foods they are habitually consumed alongside. For example, in those countries where higher risks were found sugar is present in cans of baked beans, and legumes are often consumed in stews containing pork or beef. Other research has shown that dietary factors such as higher consumption of red and processed meat are associated with higher risk of type 2 diabetes. Researchers normally try to account for such "confounding factors" in order to better understand the risks or benefits of specific foods, and our research did indeed do so, but it is difficult to completely account for them.
By including more studies than in previous analyses and also by using data from previously unpublished studies we were able to increase the number of research participants and cover more geographic regions. But, despite our best efforts, we were unable to include studies from Eastern Europe, Africa, and South Asia. This highlights an important research gap, which researchers and funders should engage with.
Why meals matter
Our findings indicate that overall there is a neutral relationship between legumes consumption and type 2 diabetes, and that pulses and soy were not associated with type 2 diabetes in any world region. The suggestion in some European countries of a link of higher legume consumption and slightly greater risk of diabetes requires further investigation to understand the underlying reasons, including cooking methods, accompanying foods and dietary patterns. This highlights the importance of considering foods in the context of meals and overall dietary patterns.
Until this further research is concluded, individuals and health professionals should continue to follow existing dietary guidelines.
This analysis illustrates the feasibility of our novel approach to "taking the analysis to the data", and such an approach can be used for other research that seeks to bring together data from multiple studies in different parts of the world.
Pearce et al. Associations of Total Legume, Pulse, and Soy Consumption with Incident Type 2 Diabetes: Federated Meta-Analysis of 27 Studies from Diverse World Regions, The Journal of Nutrition, 2021; https://doi.org/10.1093/jn/nxaa447