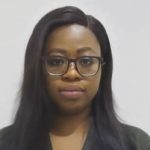 The MRC Epidemiology Unit is participating in the Health Data Research UK (HDR UK) Black internship programme, and this week we welcomed our first intern, Elizabeth Oduala, to the Unit. Elizabeth is doing a degree in Applied AI & Data Analytics at the University of Bradford, and during her internship Elizabeth will work under the supervision of  Dr SM Labib and Dr James Woodcock of the Unit's Public Health Modelling programme.
The Black community are heavily underrepresented in the science, technology, engineering and maths (STEM) community, with only 65 Black individuals among more than ten thousand science professors in the UK. Through the Black internship programme, HDR UK hopes to help tackle the underrepresentation of Black people within the STEM community by transforming the prospects of and providing the opportunities for young Black people in the UK to flourish in their future STEM careers.
HDR UK has recruited a total of 54 interns to join the programme, which runs over six weeks this summer. The internship programme is being organised in partnership with the 10,000 Black Interns initiative and the UK Health Data Research Alliance (HDR Alliance), and will provide paid work experience to future Black data scientists as they work at 25 of HDR UK's partner organisations.
Discussing what she wants to achieve during her internship, Elizabeth said:
"I am super thrilled about the opportunity to work in the PHM unit, especially as I will get to work with experienced academics who are leveraging data for health improvement. I also look forward to exploring data analysis and visualization using modern tools and learning new technical skills that will be of great relevance to my career goals as a Health Data Scientist."
Dr Labib added:
"We are excited to have Elizabeth as our projects have several fronts where she can explore interesting ideas and expand her skills in data science and its application in public health modelling."
Welcoming Elizabeth to the Unit, Professor Nita Forouhi, who is Director of Organisational Affairs at the University of Cambridge School of Clinical Medicine in addition to her Unit role as programme leader for Nutritional Epidemiology, said:
"This internship is directly aligned with our goal to build capacity for doing best research together with maximising equality, diversity and inclusion in the workplace. We are confident that our training environment will provide Elizabeth with new knowledge and skills, and hopeful that this experience will help to raise aspiration, increase confidence and open future opportunities for a successful career in academia."