There are many barriers to cross-cohort analyses and physically pooling data is constrained by governance, ethical and legal challenges. InterConnect is therefore taking a new approach. It offers a range of methods to enabling cross-cohort analyses:
A technical solution that allows users 'take the analysis to the data' rather than 'taking the data to the analysis' – federated meta analysis
Accessing data via existing secure analysis environments offered by institutions hosting cohort data (AKA Trusted Research Environments)
Traditional data transfers
Results sharing where analysts at the local institution generate results that are returning to the researcher leading the project
This range of approaches allows cohorts to take the route that is most suited to their resources and expertise, allowing projects to maximise inclusion.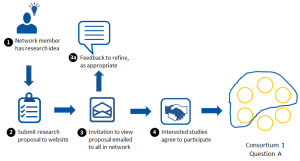 Federated meta-analysis provides a secure, scalable and sustainable approach to cross-cohort analyses through what could be called a 'data access and results sharing' network.
---
Federated meta-analysis
Data from contributing studies are held securely on local, study-based computers.
Analytical commands are sent as blocks of code to request each local computer to undertake an analysis and return summary results that are non-identifying.
Analyses are performed locally so all data stay at source and does not leave the originating institution.
A number of measures are in place to ensure privacy and security.