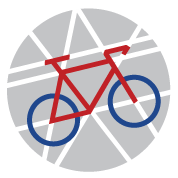 A team of academic specialists led by CEDAR has developed the Propensity to Cycle Tool (PCT) for England for the Department for Transport (DfT).
The tool is available at www.pct.bike
The academic team consists of:
The interactive web based tool is designed to help planners tasked with prioritising where to invest to best realise uptake of cycling. The model provides insight into where cycling has the greatest potential to grow, and also calculates resulting societal benefits (health and carbon).
The method allows estimation of cycling potential at the local level under a range of scenarios. The model focuses on commuting and school trips as these are the trips we have national data for. A novel feature of the method is its ability to quantify extra cycling potential along specific routes. The PCT is recommended by the DfT for use in Local Cycling and Walking Investment Plans.
For more detail on the case studies and use of the tool in practice see https://blog.pct.bike/
For more detail on how to use the tool see http://pct.bike/manual.html
For estimates of cycling potential at the local authority level see the CEDAR Evidence Brief Special http://www.cedar.iph.cam.ac.uk/blog/new-evidence-brief-special-englands-cycling-potential/
For the academic article describing the approach see https://www.jtlu.org/index.php/jtlu/article/view/862 
For the description of the new travel to schools scenarios see https://www.sciencedirect.com/science/article/pii/S2214140518301257
For training on the PCT please contact Dr Rachel Aldred R.Aldred@westminster.ac.uk
For more information please contact Dr James Woodcock: jw745@cam.ac.uk  or pct@pct.bike