Welcome to the summer 2022 issue of epigram, the quarterly newsletter from the MRC Epidemiology Unit.
To receive it straight to your inbox, sign up at www.mrc-epid.cam.ac.uk/subscribe/
In this issue
---
Active kids – anything but child's play
Nearly half of British six-year-olds don't meet daily physical activity guidelines
Current UK physical activity guidelines recommend that children and young people aged between 5 and 18 years do an average of 60 minutes of moderate-to-vigorous physical activity – including activities such as brisk walking, swimming, dancing or football – per day across the week.
Children's transition into formal schooling is an important opportunity to ensure many more achieve recommended levels of activity. To find out how much physical activity UK children at the beginning of formal schooling are actually achieving, researchers gave 712 UK six-year-olds accelerometers that they each wore continually for an average of six days.
The results showed that just over half of the children (53%) met the current UK recommended guidelines, with boys being more likely to reach the target than girls (63% of boys vs 42% of girls). The scientists recommend that new initiatives to promote physical activity should consider the lower activity levels in girls and at weekends. Read more.
The importance of professional development for school-based physical activity promotion
Schools have been the focus of the majority of government policies and researcher-led interventions aiming to increase children's physical activity levels. However, the best available evidence suggests that they have largely failed to achieve their desired outcomes.
To investigate the reasons for these disappointing outcomes, researchers reviewed evidence from 19 countries to determine what staff training has been provided within the interventions, and then explored if specific training features were associated with either teachers implementing the new initiative as intended or an increase in student physical activity.
They identified specific training features which made it more likely that an intervention would be delivered to students as intended, including clear goals to work towards, the opportunity to practice the new teaching technique, regular evaluation and feedback, and resources such as sports equipment. Unfortunately these key ingredients for success were often missing from the training the teachers received. Read more.
---
Wearable tech boosts research accuracy
Wearable device study in 88,000 people shows the heart health benefits of more intense physical activity
Increasing physical activity of any intensity is known to be beneficial for health, but a research team new led by scientists at the MRC Epidemiology Unit and University of Leicester wanted to find out if there is a greater reduction in cardiovascular disease risk when more of that activity is of at least moderate intensity.
Most large-scale physical activity research uses questionnaires, but physical activity intensity and duration is hard to recall accurately, especially when it comes to low intensity every day activities like housework or shopping. So the authors analysed wrist-worn accelerometer-measured physical activity data from more than 88,000 UK Biobank participants.
They found that, as expected, the total amount of physical activity a person does was strongly associated with a decrease in the risk of heart disease or stroke. But they also found that getting more of the total physical activity volume from moderate-to-vigorous physical activity was associated with a substantial additional reduction in cardiovascular risk. In other words, intensity of exercise does matter for health. Read more.
Unit joins collaboration developing better techniques to track people's diets
Diets are currently measured by people trying to remember what they have eaten and then completing complex and time-consuming nutrition surveys. This can lead to unreliable results. In an effort to more accurately measure the UK's eating habits and improve public health, scientists from the MRC Epidemiology Unit have joined a project that will soon begin testing new techniques including wearable cameras and urine and blood tests.
Volunteers will follow set meal plans representative of the UK diet under supervised conditions, wearing tiny cameras to film what they eat, as well as providing blood and urine samples. The images taken will be analysed using AI software and the results compared with measurement of chemical markers of food intake in the urine and blood to determine how accurately the approach can recognise foods eaten by the wearer.
This work has major implications for how researchers and policy makers assess the success of efforts to improve people's health and give better dietary advice. It could also help in the monitoring needed to test new treatments for disease, such as the connection between eating patterns and cancer. Read more.
---
That's a WRAP for weight loss study
Assessing the long term impact of a commercial weight management programme
A study examining the long term effect of 12 and 52 week commercial weight management programmes shows that the 52 week programme was more effective over two years. After five years some weight loss was maintained, and over a lifetime both programmes are likely to be cost-saving for the NHS.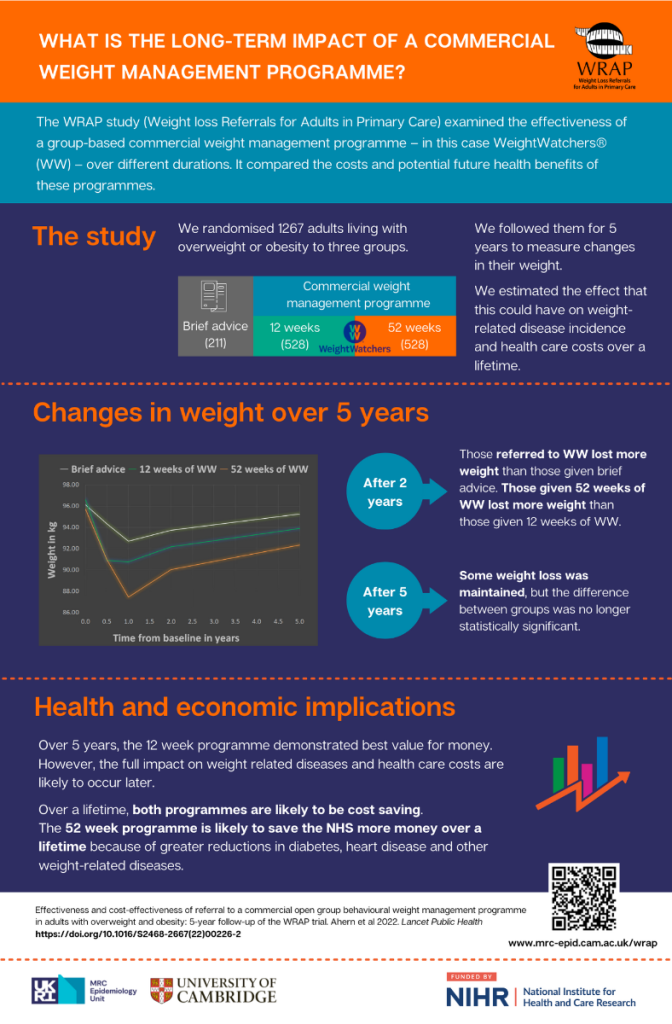 ---
Lockdown learning – lessons from the pandemic
Pandemic widens inequalities in physical activity and diet
The COVID-19 pandemic exposed clear inequalities in the UK, with people with existing health conditions and living in the poorest areas of the country more likely to die from COVID-19 than the wealthiest. The pandemic, and the restrictions brought in to control it, also had an impact on everyday life including how active people were, their diets, alcohol consumption, sleep and smoking.
Using data from the Cambridgeshire-based Fenland Study and the Fenland COVID-19 Study, researchers compared measures of these behaviours taken on two occasions in the years before the pandemic (2005-2020) with the same measures taken on three occasions during the pandemic (2020-2021).
The amount of fruit and vegetables eaten as well as physical activity decreased during the pandemic period, with a much larger decrease among participants living in poorer areas of Cambridgeshire compared to those living in more affluent areas. These decreases were also greater in women compared to men. Additionally, larger decreases in home-, leisure- and work-based physical activity were seen in older age groups compared with those under 60 years old. Read more.
New analysis explains why some people suffer more from COVID-19 than others
Why is a COVID-19 infection more serious for some people than others? The human genome may hold a key. An international research team led by scientists from the MRC Epidemiology Unit and Berlin Institute of Health at Charité identified several variations in human genes that contribute to a higher risk of severe COVID-19.
By examining the levels of over 1,000 proteins in blood plasma, they found eight proteins for which differences between individuals in their levels were associated with differing infection severity, and linked these to variations in the genes that code for them.
The scientists hope that this knowledge can be used to develop effective therapies for COVID-19 infection, though not all the proteins are suitable targets due to the risk of side effects. One protein they identified G-CSF, is promising. COVID-19 patients who produce more G-CSF tend to experience a milder disease course, and as synthetic G-CSF is already used as a drug for other conditions it can potentially be repurposed as a treatment for COVID-19. Read more.
---
Opportunities at the Unit
PhD Studentships in Epidemiology or Public Health Research 2023/24
We're pleased to announce the availability of PhD student places to start in 2023/24. PhD students are encouraged to develop and conduct their own research relevant to any of the department's nine research programmes. We invite applicants to contact potential supervisors directly to discuss your research interests. You are welcome to formulate your own PhD topic, coherent with the overall goal of the Unit and any of our programmes, or alternatively you may choose from our list of projects.
Senior Programmer – Web Lead
An exciting opportunity has arisen for a Senior Programmer/Web Lead to join the Unit. Initially embedded in Data Management this role will transition to become part of the Digital Tools Team – a new team that will enable a step change in the development and application of digital technology to the Unit's portfolio of research such as wearables and apps, working alongside the existing Data Management and IT teams. The post holder will work with a number of other specialists, including a number of Data Managers, Programers and IT Support Staff to deliver web-based applications for the Unit. You will work closely with the Communication Team where your technical expertise and understanding of websites will be integral to developing and maintaining the Unit's web presence.
Get specific alerts about vacancies by amending your subscription preferences at www.mrc-epid.cam.ac.uk/subscribe
---
Researchers Voices
The views of Unit researchers are often sought on issues related to their work. Here are a few example from the last few months, and you can find more on our Researcher Voices page
The "zero-chance" doctor who now advises government
In an interview with the University of Cambridge's 'This Cambridge Life' feature, MRC Epidemiology Unit scientist Dr Raghib Ali describes how after growing up on free school meals at one of the lowest performing state schools in the country, he went on to become a leading epidemiologist and OBE awardee. Read more
The innovative doctor who treats cities
Unit scientist Dr Tolullah Oni, who leads our Global Diet and Physical Activity research group, was interviewed by South Africa's Daily Maverick about how components of cities such as food environments, noise and air pollution contribute to different disease outcomes. She also gave a talk on 'Public Health, Architecture and Urbanism' to the African Futures Institute, which you can watch on YouTube.
Imagining a future beyond the car
In an analysis for the BMJ, Dr James Woodcock and colleagues argue that achieving a healthy and net zero transport system requires a transition away from the private car – whether electric of fossil fuelled – to a mix of other forms of transport. Read more.
BBC Food programme discusses processed food reformulation 
Professor Jean Adams examined the challenges of reformulating highly processed food to make it healthier in an interview for the Food Programme episode 'Reformulation – a fix for the obesity crisis?'. Listen on BBC Sounds.
---
Getting the word out
Big Biology Day 2022
Volunteers from the Unit were joined by colleagues from the IMS-Metabolic Research Laboratories on our Big Biology Day 2022 stand at Hills Road 6th Form College on Saturday 15 October. We were visited by more than 250 people of all ages who raced against the clock in our Sugar Cube Challenge, learned what biomarkers can tell us about diet and health with Fortune Telling Molecules, and discovered how our food environment influences what we chose to eat with the Snackingtons game.
The science of takeaway names
How often can you guess what kind of food a takeaway sells from the name alone? Chances are you can sometimes guess even when the food isn't specified. In 2021 Unit researchers led who study neighbourhood exposure to takeaway outlets used machine learning to develop a model to automatically classify takeaway food outlets based on business name alone. They've now launched an online tool that anyone can use to classify outlets. Does it get your local takeaways right?
Unit members across several of our programmes and teams have been given awards that recognise their work.
---
Our latest publications
You can now find all publications from the MRC Epidemiology Unit at our new Publications Database: https://publications.mrc-epid.cam.ac.uk/ You can search by journal, year, study, programme, Unit author, and keywords in the title and abstract. Since the last issue of epigram, we have published the following papers:
About epigram
epigram is the newsletter for everyone interested in work happening at the MRC Epidemiology Unit at the University of Cambridge.
We welcome your views on it. Email us at comms@mrc-epid.cam.ac.uk
To subscribe to receive the email version of epigram, please fill out the form at www.mrc-epid.cam.ac.uk/subscribe