Welcome to the winter 2022/23 issue of epigram, the quarterly newsletter from the MRC Epidemiology Unit. You are receiving is because you subscribed to epigram or CEDAR Bulletin, which have now merged. If you no longer wish to receive epigram, you can update your preferences here. In this issue
---
Tax on sugar showing success?
Sugary drinks tax may have prevented over 5,000 cases of obesity a year in year six girls alone
The introduction of the soft drinks industry levy – the 'sugary drinks tax' – in England was followed by a drop in the number of cases of obesity among older primary school children. Taking into account current trends in obesity, this suggests that around 5,000 cases of obesity per year may have been prevented in year six girls alone.
In April 2018, the UK governments introduced the soft drinks industry levy, targeted at manufacturers of the drinks to incentivise them to reduce the sugar content of soft drinks and the amount of sugar in diets – particularly the diets of young people. MRC Epidemiology Unit researchers tracked changes in the levels of obesity in children in England in reception year and year six between 2014 and 2020. Taking account of previous trends in obesity levels they compared changes in levels of obesity 19 months after the sugar tax came into effect.
The team found that the introduction of the sugar tax was associated with an 8% relative reduction in obesity levels in year six girls, equivalent to preventing 5,234 cases of obesity per year in this group alone. Reductions were greatest in girls whose schools were in deprived areas, where children are known to consume the largest amount of sugary drinks – those living in the most deprived areas saw a 9% reduction. However, the team found no associations between the sugar tax coming into effect and changes in obesity levels in children from reception class. In year 6 boys, there was no overall change in obesity prevalence. Read more.
This research was widely covered by UK and international news outlets, and first author Dr Nina Rogers was interviewed by BBC Newsnight, Times, ITV Anglia, and Der Spiegal. Other newspapers covering it included the Guardian, Daily Mail, Telegraph, New York Post, Evening Standard, Bloomberg and Independent.
---
Finding the fingerprints of health and disease
A team of researchers from the MRC Epidemiology Unit and Berlin Institute of Health at Charité, led by Professor Claudia Langenberg, has analysed the genes, proteins and metabolites in blood samples from tens of thousands of people to identify particular patterns that are associated with health and disease. Their approach could aid earlier and more accurate diagnosis, and improve the effectiveness and safety of strategies to prevent and treat disease.
Detecting the undetected: measuring levels of three proteins in the blood can aid detection of undiagnosed prediabetes
Medical and behavioural interventions are effective in delaying or preventing type 2 diabetes onset in people with prediabetes (which is when you have a higher than normal blood sugar level.) However, a substantial proportion of people with prediabetes are missed by current clinical screening techniques. Individuals with isolated impaired glucose tolerance (isolated IGT), a common type of prediabetes, can only be identified through oral glucose tolerance testing, which is not routinely performed as part of type 2 diabetes clinical screening.
By analysing the levels of nearly 5,000 different proteins in blood plasma samples from more than 11,000 Fenland Study participants, each of whom underwent an oral glucose tolerance test, scientists identified a three-protein signature in the blood that can improve detection of isolated IGT. Incorporating testing for this signature may substantially reduce the number of individuals who need to undergo oral glucose tolerance testing. This would help to improve the health of affected individuals and to alleviate the burden to healthcare systems caused by delayed diagnosis. Read more.
Revealing the chemical fingerprints of healthy metabolism and disease
Our body continuously processes thousands of small molecules such as fats, proteins and sugars as part of our normal metabolism, with the levels of these metabolites varying from person to person as a chemical fingerprint. Small changes in an individual's metabolite levels can cause or reflect illness, and potentially provide useful information about their health. Now scientists have discovered more than 300 regions in the genome that contribute to each person's individual chemical fingerprint.
To identify these regions, scientists measured the amount of more than 900 small molecules in blood samples from over 14,000 participants in two large UK population studies – the INTERVAL study and the EPIC-Norfolk study – whose genetic code had also been analysed. They identified which genes are relevant to the changing amounts of specific molecules in the blood, and which changes in metabolism contribute to the development of individual diseases, such as breast cancer. The scientists hope that in future this information about an individual's chemical fingerprint and the genomic variations that underpin it could help clinicians to more effectively tailor treatments to individual patients. Read more.
---
Active at all ages
Mums' activity levels may depend on number and ages of children
New analysis of data from the Southampton Women's Survey led by Unit scientists found that less than half of mums meet the recommended levels of moderate-to-vigorous physical activity, and that mothers of younger children manage to do the least.
The research showed that women with school-aged children did on average around 26 mins of moderate-to-vigorous physical activity per day, whereas mothers with only younger children managed around 18 mins per day. The number of children was also a factor, having more than one child meant mothers managed only around 21 mins of moderate-to-vigorous physical activity per day, but mums with multiple children all under five years old did more light intensity activity than those with only children of school-age. Read more.
Fitness levels can be accurately predicted without strenuous exercise using wearable devices
VO2 max is the capacity of the body to carry out aerobic work and a key measurement of overall fitness, and is an important predictor of heart disease and mortality risk. While measurement of VO2 max is considered the "gold standard" of fitness tests, measuring it currently requires expensive equipment like a treadmill or exercise bike, and strenuous exercise that can be risky for some individuals.
Using physical activity data from more than 11,000 participants in the Fenland Study who wore devices that measured their heart rate and movement, scientists from the Unit and University of Cambridge Department of Computer Science and Technology developed a new method that uses machine learning to predict VO2 max during everyday activity. Their method doesn't need the person whose fitness is being evaluated to undertake strenuous activity, so it is safer and can potentially be used with far larger numbers of people. Read more.
---
Getting into the SWiM of things
How well did the a weight management programme support health during COVID-19?
A recent study in the International Journal of Obesity examines the effect over 12 months of the Supporting Weight Management during COVID-19 (SWiM-C) programme. The results show that while the effect of SWiM-C on weight was inconclusive, it improved health behaviours and wellbeing.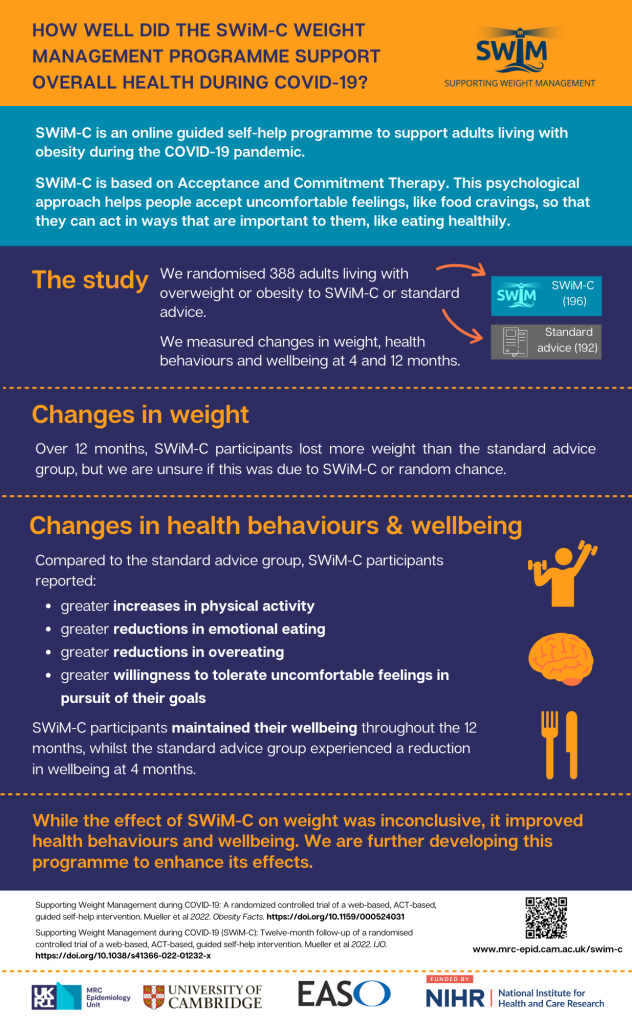 ---
Come on, get appy
Lessons from the high levels of participant engagement with Fenland COVID-19 study app
The COVID-19 pandemic accelerated interest in the use of remote health monitoring for patient care and also for research – where it's often becoming harder to recruit and retain participants. In collaboration with Huma Therapeutics Limited, Unit scientists undertook research with over 2,250 participants in the Fenland COVID-19 study exploring how digital technologies can support population research. The study examined the potential to identify people infected in the pre-symptomatic phase of Covid using information collected remotely, and to measure effects of Covid restrictions on health-related behaviours such as diet, physical activity, wellbeing and mental health.
Their results showed that participants had high, sustained engagement with a smartphone app that collected information including health related measurements. Participants reported a positive experience, finding the app easy to use and quick to report measurements and symptoms. They took part for at least six months, with minimal drop-off in engagement over the study. Interestingly there was a higher engagement rate amongst the participants aged over 65. Out of this experience we've developed a checklist for mobile health engagement in population-based studies. Read more.
---
Researchers Voices
The views of Unit researchers are often sought on issues related to their work. Here are a couple of examples from the last few months, and you can find more on our Researcher Voices page
Weight loss treatments are not a permanent fix – that doesn't mean they 'don't work'
In an article published in The Conversation, Unit scientist Dr Amy Ahern and Professor Giles Yeo of the IMS Metabolic Research Laboratories discuss why is it so difficult to keep the weight off after you've lost it. Read more
Breaking the decades-long cycle of failed obesity policy – Max Perutz Science Writing Award 2022
In an article was shortlisted for the 2022 Max Perutz Science Writing Award, Unit PhD student Dolly Theis examines why so many Government obesity policies have failed, how they can more effectively, equitably and rapidly solve major problems like rising obesity rates. Read more.
---
Get hands on with the Unit
Cambridge Festival 2023
The Cambridge Festival 2023 will run from 17 March – 2 April 2023, and events are open to the public. Festival events involving MRC Epidemiology Unit members will include hands-on activities for families and an in-person evening talk, which we'll announce soon on our website. Cambridge Festival 2023 programme will be published and bookings will open on 13 February. Cambridge Festival website.
---
Opportunities at the Unit
Research Site Manager (Fixed Term)
An exciting opportunity has arisen for a Research Site Manager to play an important role in supporting the department's research into obesity, diabetes and related metabolic disorders. The primary role of this post is to manage all members of the field measurement team across the Wisbech and Ely testing sites and ensure the efficient running of the team so that they deliver a professional support service to include physical activity and anthropometric measurements, and collection of biological samples from volunteers whilst maintaining appropriate health and safety standards.
Research Associate: Diet and Eating Behaviours across Early Adulthood Transitions (Fixed Term)
Applications are invited for a Research Associate to contribute to research investigating the development of diet and related health behaviours across the life transitions of early adulthood. This will be a 2-year position, to start June 2023, based in the Behavioural Epidemiology and Interventions in Young People Programme at the MRC Epidemiology Unit. The successful candidate will conduct analysis of new data (from the DEBEAT study) and existing longitudinal cohorts, to address research questions concerning the changing exposures which influence development of diet and related health behaviours through early adulthood.
Research Laboratory Technician (Fixed Term)
We are recruiting for a Laboratory Technician, who will be based in the Unit's Sample Management Team. The primary role of this post is to perform sample auditing, re-organising, re-arraying, re-labelling and data import (to spreadsheets and LIMS) to be done at the Unit's Sample Storage Facility at Cambridge Research Park (Waterbeach), and labs at Addenbrooke's Biomedical Campus. Samples are stored in ultra-low temperature freezers and liquid nitrogen tanks. It will be the responsibility of the post holder to assist in the storage and retrieval of samples from these vessels. The work will support a new sample collection phase of the Fenland Study along with the development of a new -80°C sample storage system. 
Technical Manager, Physical Activity Measurement
We are seeking to appoint a Technical Manager for our Physical Activity (PA) Measurement Team, which provides expertise on measuring free-living physical activity and sedentary behaviour using both self-report and objective measurement instruments, energy expenditure and cardiorespiratory fitness in both laboratory and field settings. The PA technical manager will hold responsibility for the day-to-day running and coordination of PA measurement projects, ensuring robust technical support and data processing and will provide line management for a small experienced team of research assistants.
Research Study Assistant (Fixed Term)
Exciting opportunities have arisen for a Research Study Assistant to play an important role in supporting the department's research into obesity, diabetes and related metabolic disorders. The primary role of these posts is to work as part of a multi-disciplinary Field Team collecting physical activity, anthropometric, clinical and body composition measurements from adult and paediatric research study participants, for a number of studies including the Fenland Study. Multiple positions are available across our Cambridge, Ely and Wisbech testing facilities.
Clinical Research Study Assistant (Fixed Term)
We are recruiting for a Clinical Research Study Assistant to play an important role in supporting the department's research into obesity, diabetes and related metabolic disorders. The primary role of this post is to work as part of a multi-disciplinary Field Team collecting clinical, anthropometric, body composition and physical activity measurements from adult and paediatric research study participants, for a number of studies including the Fenland Study. Multiple positions are available across our Cambridge, Ely and Wisbech testing facilities.
Get specific alerts about vacancies by amending your subscription preferences at www.mrc-epid.cam.ac.uk/subscribe
---
Our latest publications
You can now find all publications from the MRC Epidemiology Unit at our new Publications Database: https://publications.mrc-epid.cam.ac.uk/ You can search by journal, year, study, programme, Unit author, and keywords in the title and abstract.
Since the last issue of epigram, we have published the following papers:
About epigram
epigram is the newsletter for everyone interested in work happening at the MRC Epidemiology Unit at the University of Cambridge.
We welcome your views on it. Email us at comms@mrc-epid.cam.ac.uk
To subscribe to receive the email version of epigram, please fill out the form at www.mrc-epid.cam.ac.uk/subscribe