A resident Faculty of international experts provide most of the lectures and take the tutorials. A visiting, non-resident, Faculty will give additional lectures. The lectures cover a broad range of subjects including the diagnosis, classification and descriptive epidemiology of type 1 and 2 diabetes (and pre-diabetes), an introduction to field techniques and methodological problems of exposure measurement in diabetes surveys and the scope for prevention (primary, secondary and tertiary prevention) of diabetes as well as the planning of intervention programmes. Other topics that are covered include the epidemiology of the complications of diabetes, the principles and practice of screening and the evaluation of interventions.
Debates are also held on hot topics within the diabetes field. Participants will give a short presentation of their ongoing research interests or about research they wish to plan. The Faculty are happy to provide informal feedback and friendly critique on the research proposals, which can help to improve the work.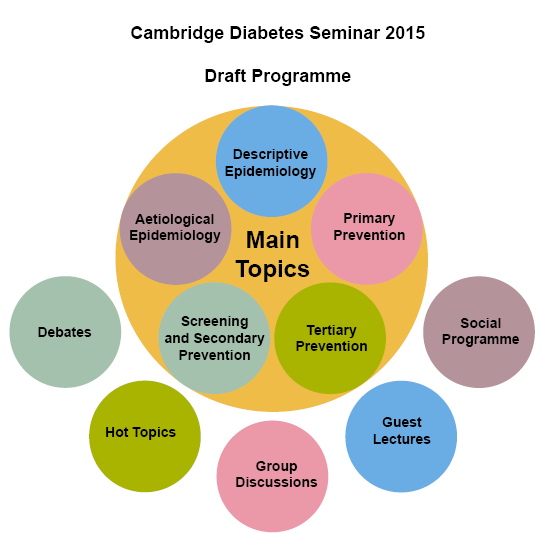 Click here to download programme PDF
Extra-curricular activities will include: international cuisine event, musical programme, punting on the River Cam, sporting activities and other team-building activities. There will be a conference gala dinner on the final evening (Friday 28th August, 2015)
What will participants be expected to contribute?
Attendance for the full duration of the Seminar is a condition of acceptance – one cannot dip in and out of the course.
Those accepted for the Cambridge Seminar will be expected to fund their own travel to and from Cambridge. We recommend that you begin the process of securing funding for this as soon as you know if you have been accepted.
Successful applicants will be sent information on relevant reading materials to help with some advance preparation which will assist the learning process during the Seminar.
All participants will give a brief (approximately 5 minute) presentation on their research. Details of this will be provided nearer the time however, you should consider thinking about your topic early as you will be required to provide a title soon after being notified of your selection to attend the Cambridge Seminar.
You will be asked to fill out an evaluation form.
We hope that you will enjoy the Seminar and network with other professionals at the forefront of this exciting field.