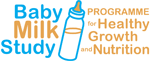 How babies are fed and grow during the first year of life can have important effects on their health in later life. The Baby Milk study aims to improve our understanding of infant feeding, appetite, behaviour and growth, to inform future infant feeding guidelines.
The study offered a package of support to parents who are bottle-feeding, as our previous studies have shown that many parents who give their babies formula-milk would like more information and support. The programme developed by researchers at the Centre for Diet and Activity Research (CEDAR) and MRC Epidemiology Unit in Cambridge aims to give support and guidance to parents who formula-milk feed their baby in order to achieve a healthy pattern of growth.
The study was a randomised controlled trial, in which parents were allocated to receive either a new feeding programme, or standard advice about bottle-feeding and weaning. Support was offered through leaflets and monthly contacts with trained advisors. Babies and parents in the study were measured at the start of the study, at six months and at 12 months. Measures included baby's length, weight and head circumference, as well as questionnaires about their sleep, appetite and temperament.
The Baby Milk Study is no longer recruiting new participants. If you have any questions concerning the study you can call us on 0800 7560878 or email us at babymilkstudy@mrc-epid.cam.ac.uk.
Participant material
Status
Recruitment is complete with 669 participants registered. Collection of baseline and follow-up data is complete, with the final 1-year follow-up visits for the study taking place in March 2016. Results will be available at the end of the Summer 2016. Download the Baby Milk Study statistical analysis plan.
Publications
Access all Baby Milk publications.
Unit Role
Unit led with responsibility for data
Funding
UKCRC funding for pilot study (via CEDAR), Unit held National Prevention Research Initiative (NPRI) project grant for main trial.
CEDAR is one of five centres of excellence in public health research funded by the UK Clinical Research Collaboration (UKCRC) and is a collaboration between the University of Cambridge, the University of East Anglia, and MRC Units in Cambridge. www.cedar.iph.cam.ac.uk