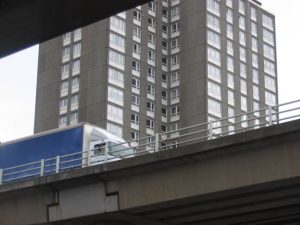 The Traffic and Health in Glasgow study (also known as the M74 study) is a quasi-experimental study of changes to the urban environment consequent on motorway construction in deprived neighbourhoods in Glasgow.
It is a mixed-method study, using a combination of quantitative (longitudinal and cross-sectional) and qualitative research methods to evaluate both individual- and population-level changes in health and health-related behaviour and to develop an in-depth understanding of how these changes are experienced and brought about.
---
More about the study – plain English summary
Source: Health impacts of the M74 urban motorway extension: a mixed-method natural experimental study. Public Health Res 2017; 5: 3.
What was the problem?
Building new roads in urban areas has the potential to reduce injuries from road traffic accidents, improve people's access to amenities and opportunities, and help regenerate disadvantaged communities. On the other hand, it may encourage car use in ways that degrade the local environment, harm people's health and well-being and widen inequalities. There is little good evidence about these impacts that can be used to guide transport policy and planning.
What did we do?
A new five-mile section of the M74 motorway was opened in Glasgow in 2011. We took the opportunity to find out more about road traffic accidents, activity patterns and well-being in the local area, and to explore whether and how these changed as a result of the motorway.
What did we find?
On balance the new motorway appeared to have promoted car use, and we found no evidence that it had reduced road traffic casualties. Although it did help to connect some local residents with amenities and people in other places, those living nearer to the motorway tended to experience poorer mental well-being over time than those living further away.
What does this mean?
Although the effects of the new motorway might have been different if it had been built somewhere else, our findings highlight how some of the benefits claimed for this type of investment may either not be achieved, or be achieved for some at the expense of others. This should be taken into account in future transport planning.