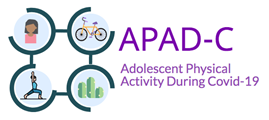 13-18 years old?
Interested in earning some holiday money?
We're researchers at the University of Cambridge who want to learn more about young people's experiences of physical activity during Covid-19. Were you less active? More active? Or didn't notice any change in your activity? Whatever your story is, we want to hear it.
Everyone who signs up to participate will be entered into a prize draw with the chance of winning a £30 Amazon voucher. All participants will get an additional £15 Amazon voucher.
---
Publications
APAD-C publications on the MRC Epidemiology Unit publications database.
---
Click below to learn more and to sign up for APAD-C.