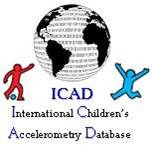 Objective methods, such as accelerometers, have become a preferred option when measuring population levels of physical activity, examining trends in activity patterns and when examining associations between activity and health outcomes in young people.
The International Children's Accelerometry Database (ICAD) project is a consortium including 20 partners which pooled and reduced raw accelerometer data using standardized methods to create comparable outcome variables in 32,000 young people aged 3 to 18 years across studies from Europe, the US, Brazil and Australia.
By pooling and reanalysing accelerometer data from different studies the ICAD has the potential to; a) increase statistical power due to a large sample size, b) create a more heterogeneous and potentially more representative sample, c) standardize and optimize the analytical methods used in the generation of outcome variables, and d) provide a means to study the causes of inter-study variability in physical activity.
The ICAD project was funded by the National Prevention Research Initiative in the UK and is led by a Steering Committee including representatives from  all contributing partners. A collaborative ICAD Working Group from the MRC Epidemiology Unit, Loughborough University and Norwegian School of Sport Sciences manages the day-to-day running of ICAD. The ICAD Working Group consists of: Dr. Andrew Atkin, Prof. Ulf Ekelund, Dr. Dale Esliger, Dr. Bjorge H Hansen, Dr. Lauren Sherar, and Dr. Esther van Sluijs.
The database is managed by the MRC Epidemiology Unit and is publicly available for data requests.
Applying to use ICAD data
The ICAD is open for data request as a supported access rescource. Please find information regarding the application process to access the data below. Data will be released in chronological order by date of accepted proposals and usually within 5 to 10 working days. Please contact Dr Lauren Sherar with data requests using the application form below:
Publishing and presenting ICAD Data
Additional material
Log of changes to ICAD database
ICAD symposium at ISBNPA Annual Meeting (June 2015, Edinburgh): see video here.
Proposed accelerometry data reduction settings for ICAD 2.0 (uploaded Dec 2015):
ICAD papers (most recent first)
Studies that have contributed data
UNITED STATES
– NHANES (wave 2003/2004 and 2005/2006)
– Project TAAG (Trial of Activity for Adolescent Girls)
– CHAMPS US (Physical Activity in Pre-School Children)
BRAZIL
– 1993 Pelotas Birth Cohort
EUROPE
– European Youth Heart Study (Norway, Portugal, Estonia and Denmark)
– PEACH Project (Personal and Environmental Association with Children's Health)
– Project MAGIC (Movement and Activity Glasgow Intervention with Children's Health)
– ALSPAC (Avon Longitudinal Study of Parents and Children)
– SPEEDY (Sport Physical Activity & Eating Behaviour: Environmental Determinants in Young People)
– CHAMPS UK (Children's Health and Activity Monitoring Program)
– The Copenhagen School Children Intervention Study
– Belgium Pre-school Study
– Swiss Ballabeina Study
– Swiss Kinder-Sportstudie (KISS) Study
AUSTRALIA
– Project CLAN (Children Living in Active Neighbourhoods)
– Project HEAPS (Healthy Eating And Play Study)